START / END
Perth to Dwellingup

Dwellingup is truly a place for those who are 'Wild at Heart'. Discover an adventure-filled playground of flowing rivers, winding trails and inspiring experiences. The adventure is yours to create in this remarkable part of the world.

Advanced bookings for tours, accommodation and equipment hire is highly recommended. Dwellingup Trails and Visitor Centre is open 9am – 4pm daily (closed Christmas Day) and can help plan your adventure to this remarkable part of Western Australia.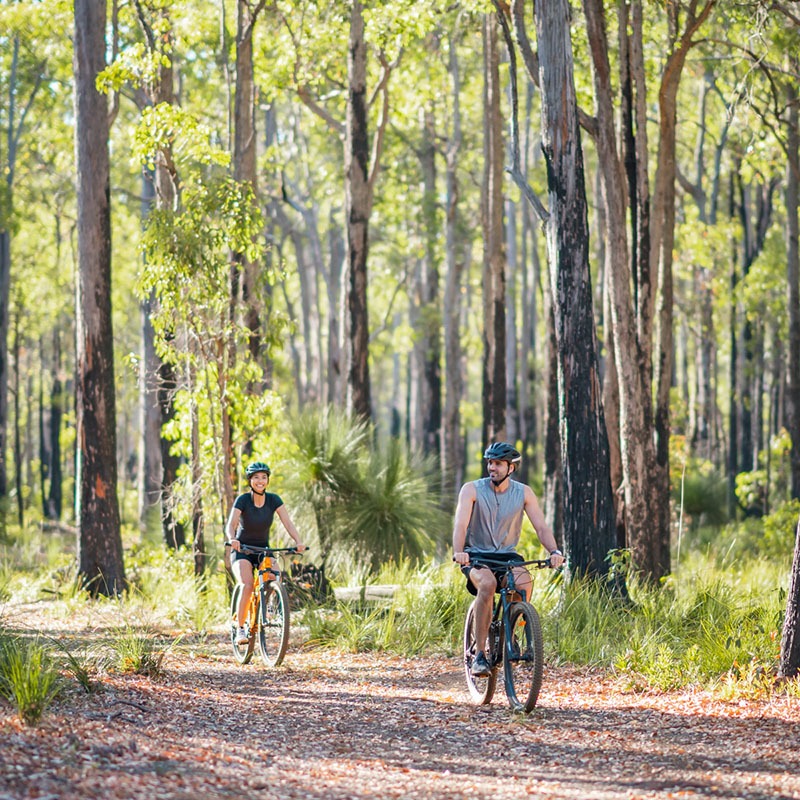 7:45am | Ready, Set, Adventure
Time to set off to Dwellingup where you will discover an adventure-filled playground for those that are truly Wild@Heart. The easy 108km drive south of Perth takes just over an hour. As you make your way through stunning landscapes and breathtaking vistas, you'll feel a sense of awe and anticipation for the weekend ahead.
9am | Adventure Starts Here
Arriving in Dwellingup, you'll feel instantly relaxed by the towering trees and sounds of nature. Start your day with breakfast and a coffee at Waypoints Café before heading to the Dwellingup Trails and Visitor Centre. Preview the trails on VR headsets, chat with local experts and collect essential maps and information.

Eager to explore, warm up your mind, body and soul with an easy stroll or ride from the centre along 'The Mack' shared-use trail. This highly-accessible* 3km loop meanders through the forest, returning to town following the iconic Bibbulmun Track.

Continue your stroll in town, admiring the vibrant street art that adds a colourful touch to Dwellingup's eclectic charm. Explore quaint stores, art galleries showcasing local artisans and their wares. Be sure to collect picnic or BBQ supplies for lunch.

Tip: If you're mountain biking, check out the other trails at the South Trail Head for a quick thrill. These short-but-sweet trails have fun, flowy berms and give you a taste of what's to come.
12pm | To the Forest
After a relaxing morning, it's time to uncover the natural beauty of Lane Poole Reserve. With its vibrant hues of red ochre, lush old-growth forests, and golden sun-kissed scenery, the reserve is a true embodiment of Dwellingup's magic.
Encompassing more than 50,000 hectares of incredible northern jarrah forest, this sanctuary is a feast for the senses, inviting you to explore, discover, and immerse yourself in nature.
Dwaarlindjirraap (pronounced Dwaar-lind-jiirr-up) is a popular day use area, only a 10-minute drive (8.7km) from town. Named after the Noongar word meaning 'place of conversations', this idyllic spot provides the perfect setting for your riverside lunch, with picnic tables and gas barbeques set amongst the towering trees and native wildlife.
Following lunch, refresh with a swim or paddle in the invigorating natural rock-rimmed river pool. The steps leading down to the water's edge makes it easy to launch your kayak and exploring the majestic Murray River. The newly built Dwaarlindjirraap Suspension Bridge offers a breathtaking view of the Murray River as it flows over the water spout beneath the towering trees. Stretching 108 metres, this must-see viewpoint will leave you in awe.
3pm | Trailblazing and Hero-Dirt
If the hero-dirt of Dwellingup's famous Murray Valley Mountain Bike Trails has been calling, gear up and ride across the Dwaarlindjirraap Suspension Bridge which connects you directly to the trailhead. Feel the rush of adrenaline as you navigate the exhilarating twists and turns of the trails suited for beginner, intermediate and advanced riders.
For those who prefer a slower pace, immerse yourself in the natural beauty of Dwellingup with a hike through old-growth forests surrounded by native flora and fauna. Lace up your boots, load up the car, and take the scenic 10-minute drive through the reserve to Island Pool. Island Pool Walk Trail is a 2.1km loop, with stunning views of the valley and river below. If you're lucky, you may spot a mob of emus, a flock of red-tailed black cockatoos or blooming wildflowers during spring.
Tip: Looking for a longer hike? Check out Chuditch Walk Trail, which offers a moderate hike along a 6km, 7km or 9km semi-loop trail.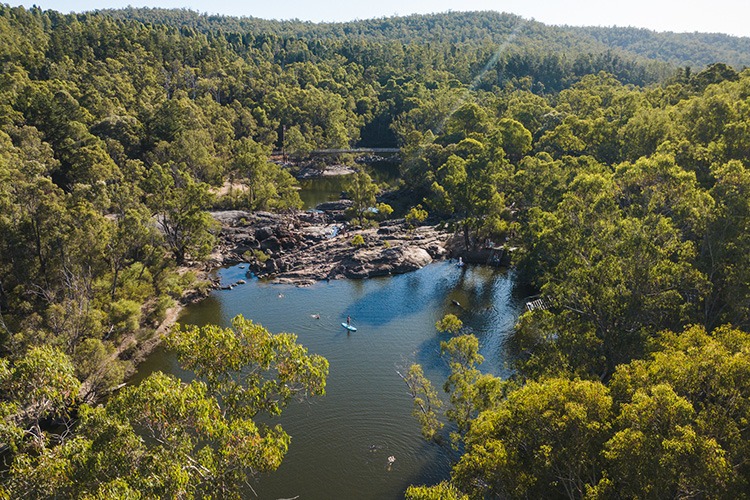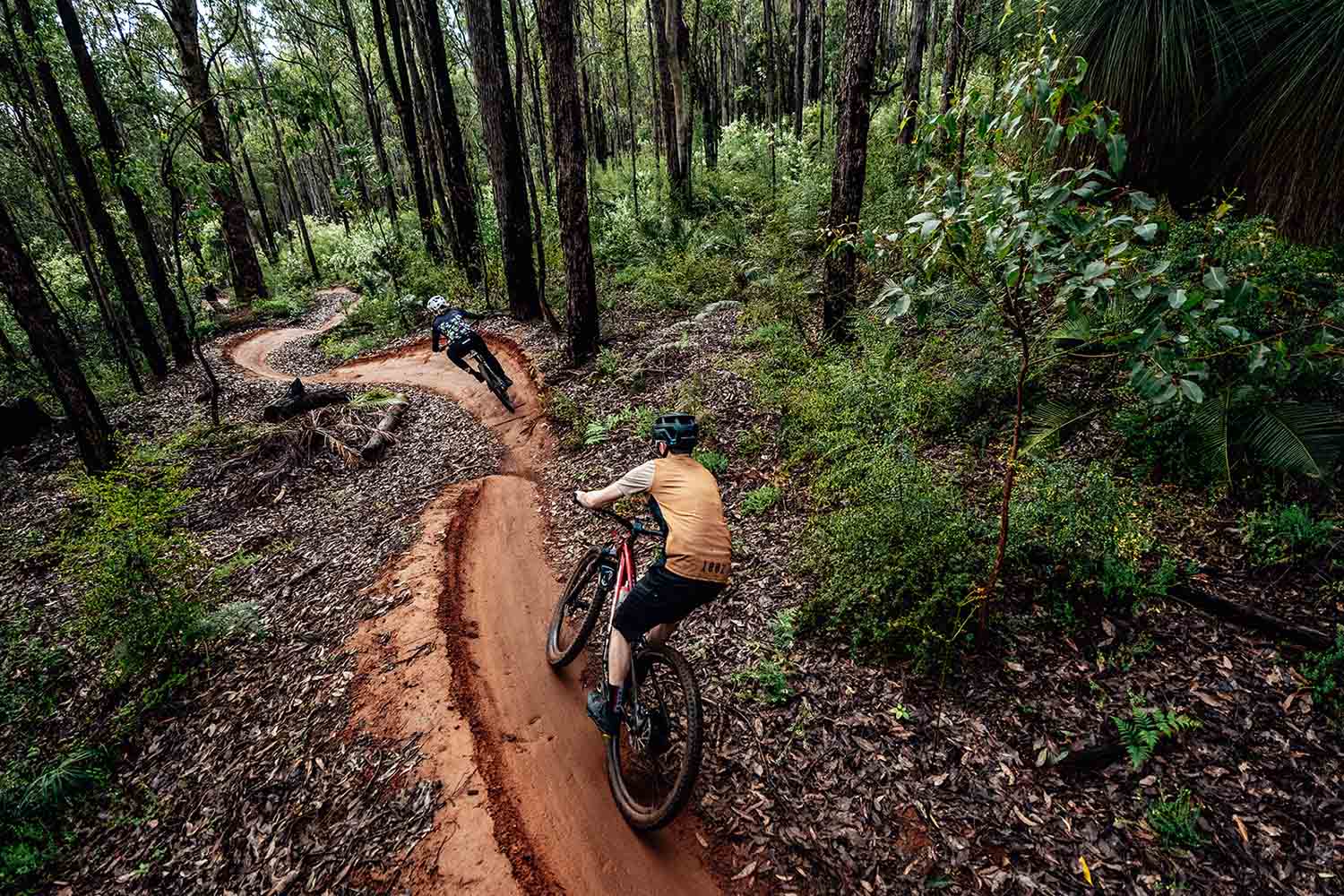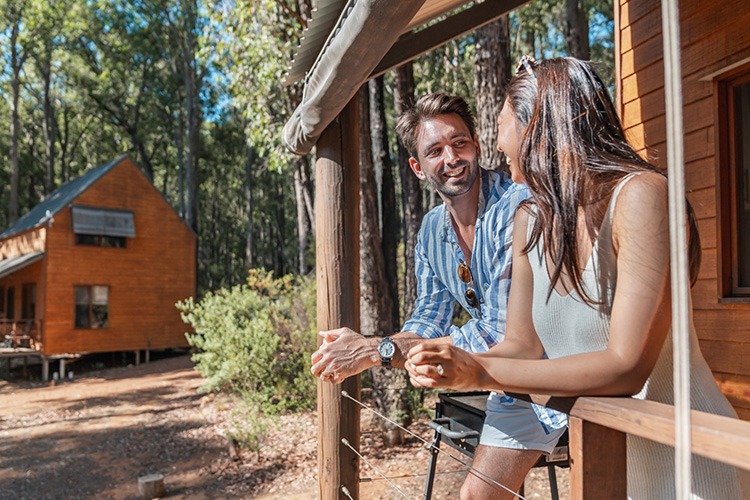 6pm | Eat Well
Whether you are craving a hearty meal or a light bite, Dwellingup's eateries are here to satisfy. Savour boutique ciders and wines, devour delicious meals, indulge in fresh local produce or simply enjoy a cold brew at the historic 'Dwelly Pub'.
Keep an eye out for wonderous dinner nights at Garden Eats, and Texan BBQ feasts at Longriders Café & Restaurant for a truly remarkable dining experience.
8pm | Retreat and Rest Up
Time to retreat to your accommodation for the evening. At Noble River Estate, you'll find your chalet set on 34-acres of peaceful bush land amongst the tall timbers of the majestic jarrah forest.
Unwind while you marvel at a million sparkling stars that illuminate the clear, dark skies of Dwellingup. More adventure awaits tomorrow.
Choose Your Own Adventure
8am | Rise and Shine
After lazily awakening to the gentle sounds of nature, stretch your body out and get ready to explore the wonders of Dwellingup. But first – breakfast! Blue Wren Café is open from 7:30am on weekends (or 8am midweek), with the scent of freshly ground coffee beans and the promise of a hearty feast luring you in.
Choose Your Own Adventure
Get to truly know Dwellingup on a tour with a local guide and share their passion for culture and the natural world. Connect to country with local Aboriginal Elder, Maitland Hill from Kaarak Dreaming, explore the natural world with award-winning Salt and Bush Eco Tours, or combine hiking and adventure with Off The Beaten Track.

If you're feeling adventurous, forge your own path and discover some of the countless wonders in Dwellingup.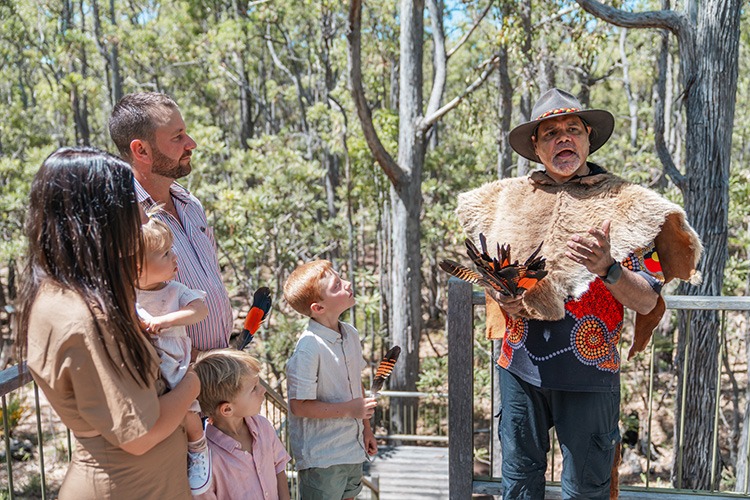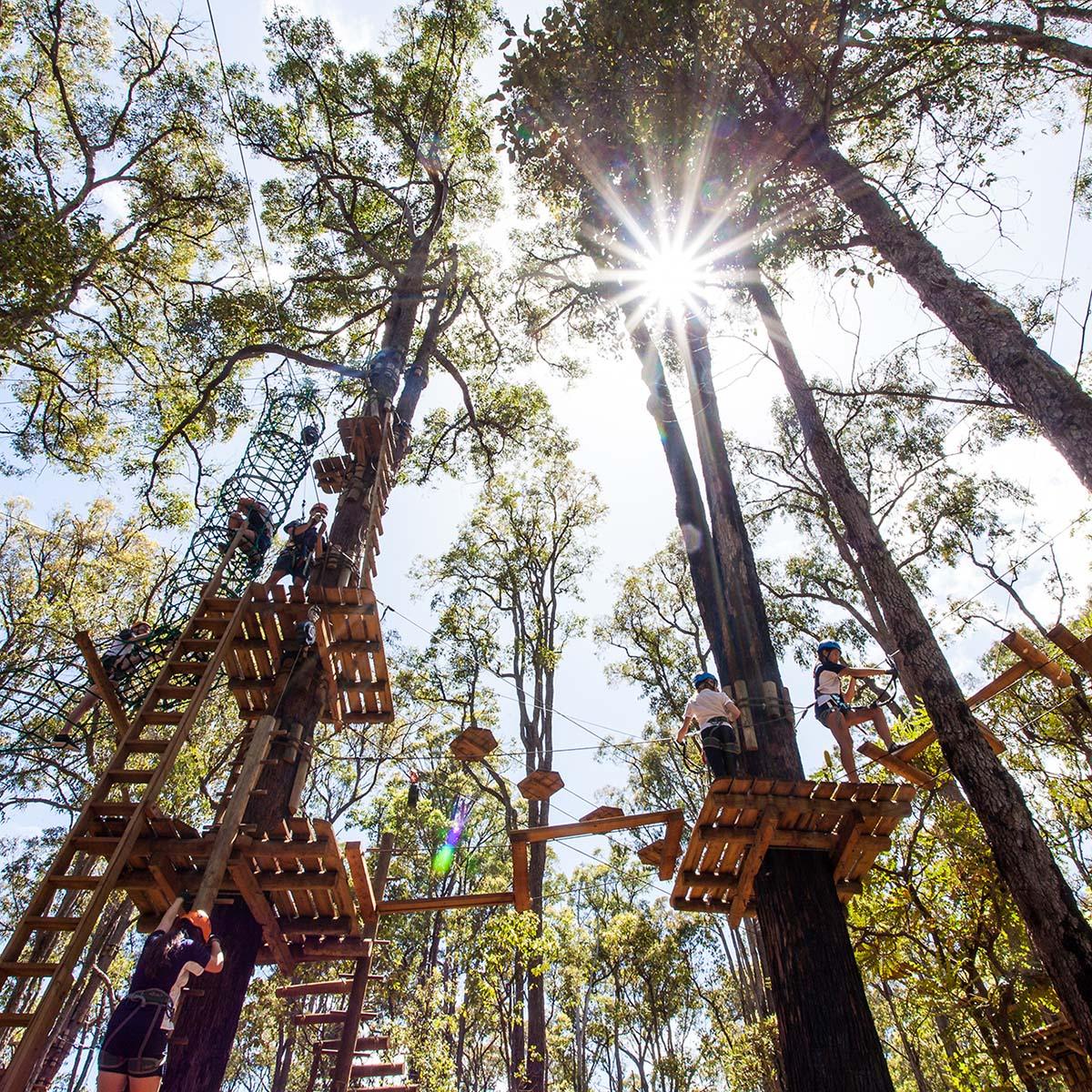 10am | Flying High
Experience the ultimate adrenaline rush at Treetops Adventure. Climb, swing, leap and fly through the forest canopy as you take on more than 90 challenges and 23 flying foxes of varying difficulty. Tailored to individual skill levels, this two-and-a-half-hour adventure is a great way to start your morning full of laughter.
12:30 | Explore and Discover
After a quick stop in town for a bite to eat, follow the emu trail to experience the magic of the forest at the Forest Discovery Centre. Make your way along the treetop viewing platform, and marvel at the majesty of the towering trees as they reach towards the sky. Explore the interpretive centre, and the walk trails, and learn about wildflowers and animals while the fresh scent of the forest air invigorates your senses.
2pm | Time Travelling
Let Hotham Valley Railway take you back to a time when travel was different, when a leisurely pace and relaxation was part of the experience. Journey through the Darling Range aboard the iconic puffing Steam Ranger as it makes its way through the Dwellingup Forest (May – October). If you're visiting during the summer season, board the heritage Forest Train with its open carriages where you can truly immerse in the breathtaking scenery and native wildlife.
4:30pm | Wind Down
As the day begins to wind down, take a moment to soak up the tranquillity of Dwellingup. Sip on a refreshing beverage as you sit on the deck or next to a wooden fire. Catch a glimpse of kangaroos and emus feasting on fallen fruit in the orchard at the Wine Tree Cidery or swing by Vergone's Fruit Stall to gather some fresh produce for the week ahead.
As you head for home, carry with you the cherished memories of the stunning landscapes and Wild@Heart adventures that made your weekend unforgettable. Hold onto the feeling of rejuvenation, tell tales of the weekend's adventures, share your photos, tagging @visitdwellingup – and start planning your next visit.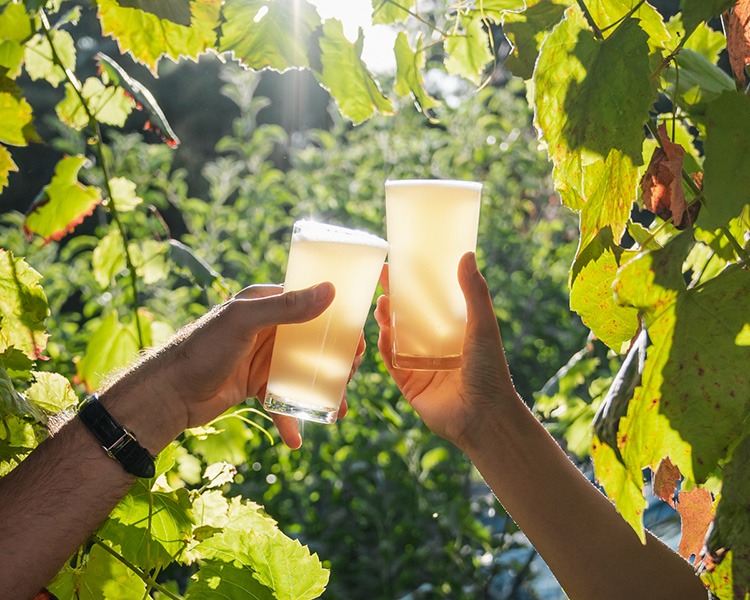 All year round, Dwellingup's cosy eateries are just the ticket to fuel adventure seekers. Whatever your fancy, you're bound to find a tasty dining experience in Dwellingup with just the right amount of quirkiness on the side. A profusion of experiences and fresh local produce, whatever your interests and appetite, you're unlikely to ever go hungry in Dwellingup.