A DWELLINGUP FOREST ESCAPE



START / END
Perth to Dwellingup

DISCONNECT, RETREAT & EXPLORE
Only an hour's drive south of Perth, you'll discover an adventure-filled playground of flowing rivers, invigorating billabong's, world-class trails and inspiring cultural experiences. Discover the secrets of Dwellingup over this three day break, where you'll get back to nature and experience 'Wild at Heart' adventures that this award-winning town is renowned for. As you embark on your short journey from Perth through scenic country back roads flanked by stunning eucalyptus trees and wildlife, you begin to feel the anticipation of escaping to one of the best adventure destinations in Western Australia.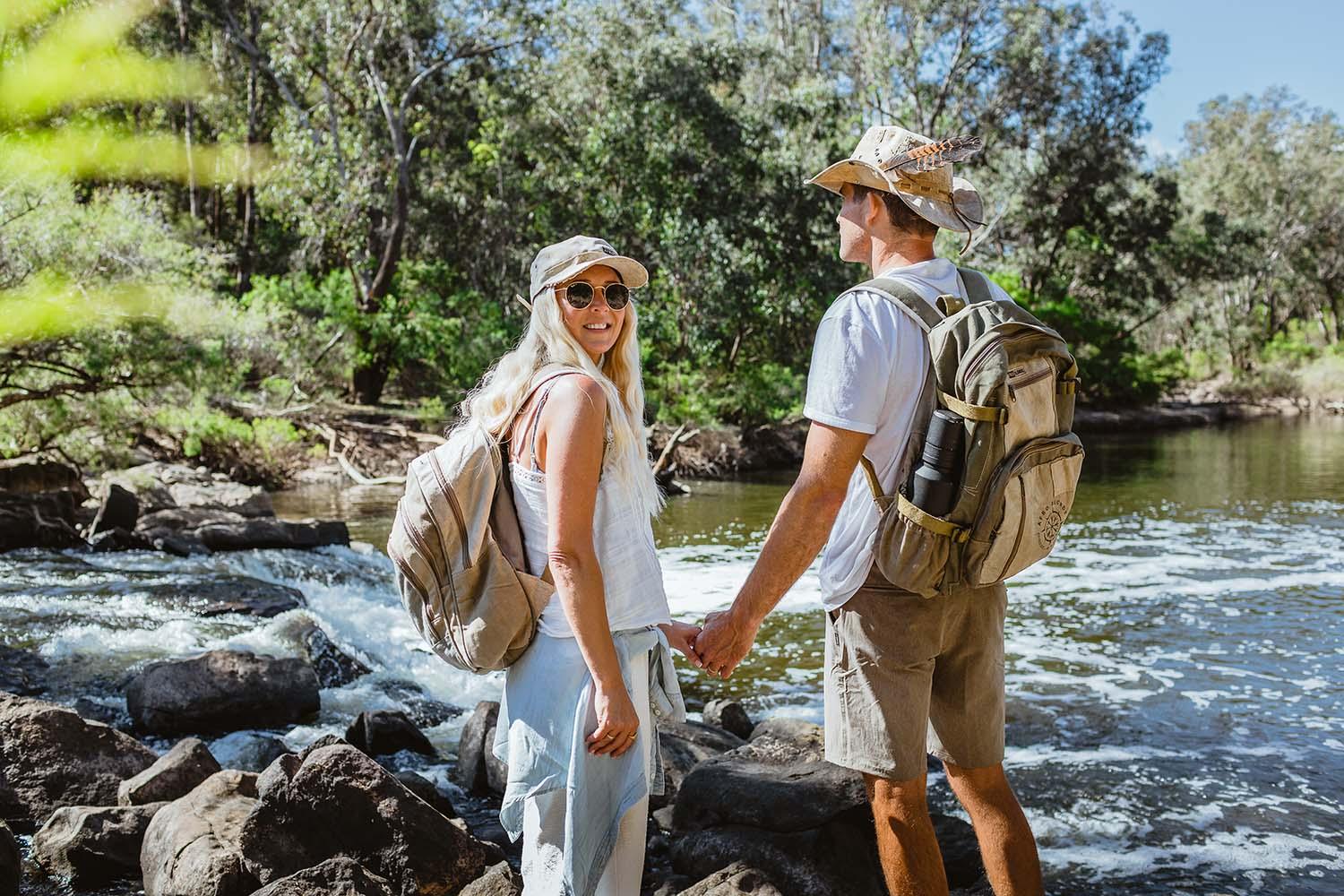 Your adventure starts as you arrive in Dwellingup, where you will feel instantly relaxed by the towering trees surrounding you, the singing of native birds, encouraged by the smiles from friendly locals and other adventurers - the excitement of your weekend ahead sets in!

All good adventurers are always prepared, so call into the Dwellingup Trails and Visitor Centre for the advice of a trusted local to help make the most of your time. The award-winning visitor centre offers an immersive experience, with state-of-the-art technology, virtual reality experiences, interactive hiking and mountain bike trail maps, information screens with carefully curated content from the area. Admire the fully restored, bright orange 1938 Mack Truck fire tender – only one of two left in the world. Don't forget to pick up your short-stay park-pass and essential maps of the local trail networks.

While at the Visitor Centre be sure to hire your mountain bike or canoe for tomorrows adventure (if needed) at Dwellingup Adventures. They offer a range of hire equipment and logistical support, and are located in the same building, overlooking one of the best skate park and pump tracks in WA. While getting fitted out, indulge in a BioBean coffee or a fresh smoothie and a snack from Waypoints Cafe, and when ready, it's time to begin your adventure.

In the heart of the Lane Poole Reserve you will find Treetops Adventure. A place where you can challenge your mind, body and soul with a two-hour, heart-thumping session (or if you prefer, you can spectate!). Climb through the aerial challenges, swing, leap, climb and fly through the forest canopy! With over 90 challenges and 23 flying foxes varying in difficulty, the experienced team will assist with tailoring your experience to individual skill levels, and is a great way to kick-start your 'Wild at Heart' adventure.

Time to set up camp. Stringers Campsite in Lane Poole Reserve is a great location for you to set up your campsite for the weekend. You will be surrounded by towering old-growth forests, native bush and wildlife, conveniently located next to the tranquil banks of the Murray River and trail networks, and with only a handful of tent sites, it is the perfect spot to reconnect with nature.

If camping is not for you and you're craving the quintessential country winter escape in a log cabin, upgrade to a picturesque forest chalet at Noble River Estate. You'll find your chalet set on 34-acres of peaceful bush land amongst the tall timbers of the majestic jarrah forest. Unpack, unwind while enjoying the serenity and fresh air on the veranda overlooking the nearby dam with resident kangaroos grazing on the lush grass, before heading off to gather supplies for your weekend.

Enjoy the last part of the afternoon, lazing on the deck at the Wine Tree Cidery overlooking the orchard and Holyoake Valley. Sit back and relax, watch for a mob of emus, telling tales of the day's adventures while indulging in boutique ciders that are perfectly paired with a ploughman's platter. This boutique cidery is a must visit, producing small batch wines and ciders that catch the imagination and delight the senses.

Before heading back to your choice of accommodation, be sure to make a stop at the General Store to collect the essentials for a BBQ dinner feast, a cosy camp fire* with gooey marshmallows and supplies for the next day's adventures. Once back, relax with a wine, soak in the serene sunset and then be blanketed by a stunning display of stars.   
DAY TWO: CONNECT & EXPLORE
After lazily awakening to the sounds of the birds and the gentle sounds of nature, stretch the body out and get ready to explore the secrets of Dwellingup. Choose between two insightful tours that will enrich your mind and teach a deeper understanding of our beautiful region.

Enjoy a hearty breakfast at the iconic Blue Wren Café, located in the heart of Dwellingup, before you join you preferred tour at the Dwellingup Trails and Visitor Centre.

Get to truly know the soul of Dwellingup and feel connected to country with local Aboriginal Elder, Maitland Hill from Kaarak Dreaming on his Nanga Brook Kep-Bilo Tour. Each tour starts with a moving Nyoongar welcome to country ceremony beneath the marri trees. Maitland takes great pride in sharing cultural katadjin (knowledge) of his ancient land, including identifying bush medicine, tasting bush tucker, learning traditional hunting techniques, and understanding the power of Dreamtime stories.

If you prefer to be inspired by nature and have thirst to know the ancient-natural secrets of Dwellingup, Salt and Bush Eco Tours aims to inspire people to connect, and better understand the natural world. Take the time to slow down, soak in the sounds and smells of nature, learn from expert naturalists on a Guided Wellness Walk and discover wonderful phenomena that you would normally walk right past. With your knowledge cup full, and your stomach near empty, take time-out for an early picnic lunch in Lane Poole Reserve. Marvel at your surroundings and the things you have learned in this ancient part of Dwellingup.

It's time to step up the pace a notch, and Dwellingup can provide all the down-hills and inclines you could ever need to do just that.

Meet Dwellingup Adventures at the Chuditch day use area in Lane Poole Reserve, only 10 minutes from your tour, where your mountain bike or kayak will be waiting for you. From here beginners can weave through the picturesque jarrah forest on the simple but fun, cross-country Quollity Street trail. If you have intermediate skills, head to The Roost and take on a blue trail. Later-rite is a rocky, all-mountain ascent, which connects to local favourite Inzamia for a long, leg-burning descending pump trail that will have you grinning from start to finish. Dwellingup really is a mountain bikers paradise.

If you have chosen a water adventure, launch your vessel and set course for the Murray River and finish the afternoon with a self-guided kayak from Chuditch to Dwarlindjirraap. In late Spring and Summer, the river becomes tranquil and calm; suitable for novice paddlers. Winter makes way for the more adventurous with fast moving channels offering a fast water experiences for rafters, canoeists and kayakers. On arrival at your destination Dwellingup Adventures will be there to collect your gear and transport you back to where you started. Easy!

After an absolutely epic day, head into town, relax and let someone else do the cooking. With so much energy burned it's hard to go past a stone-baked pizza or juicy burger, paired with an ice-cold pint from Longriders Café & Restaurant or the local 'Dwelly Pub'.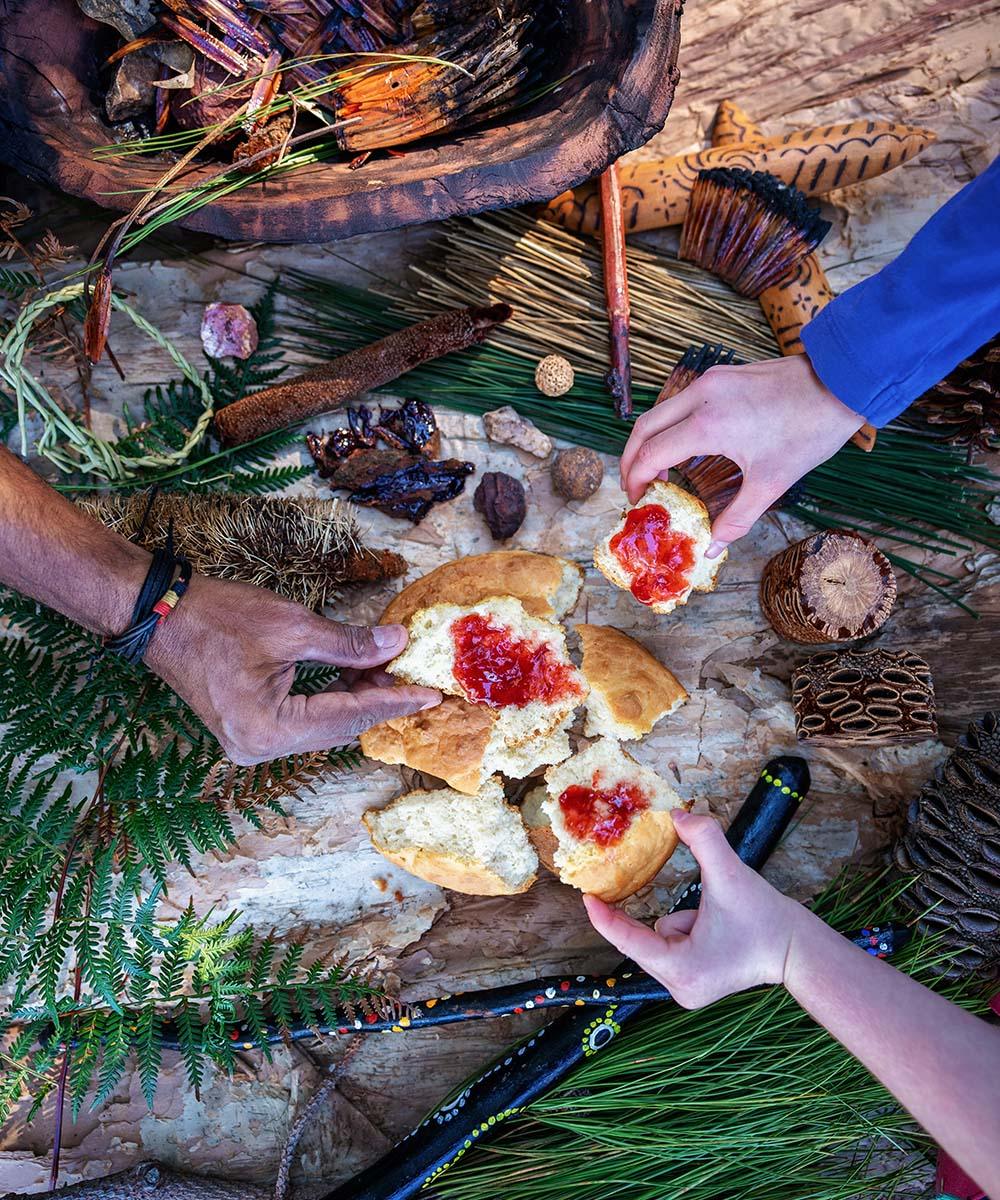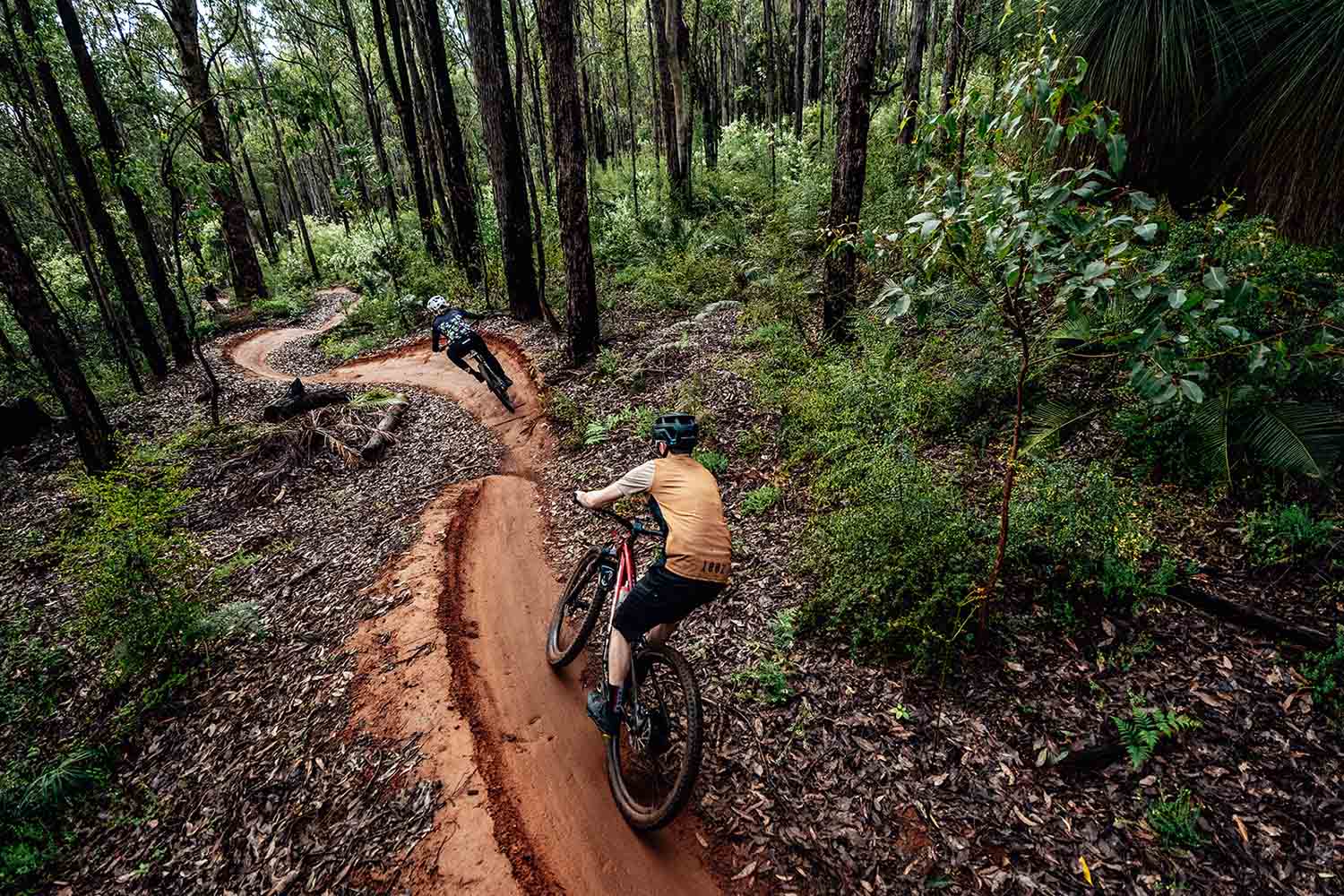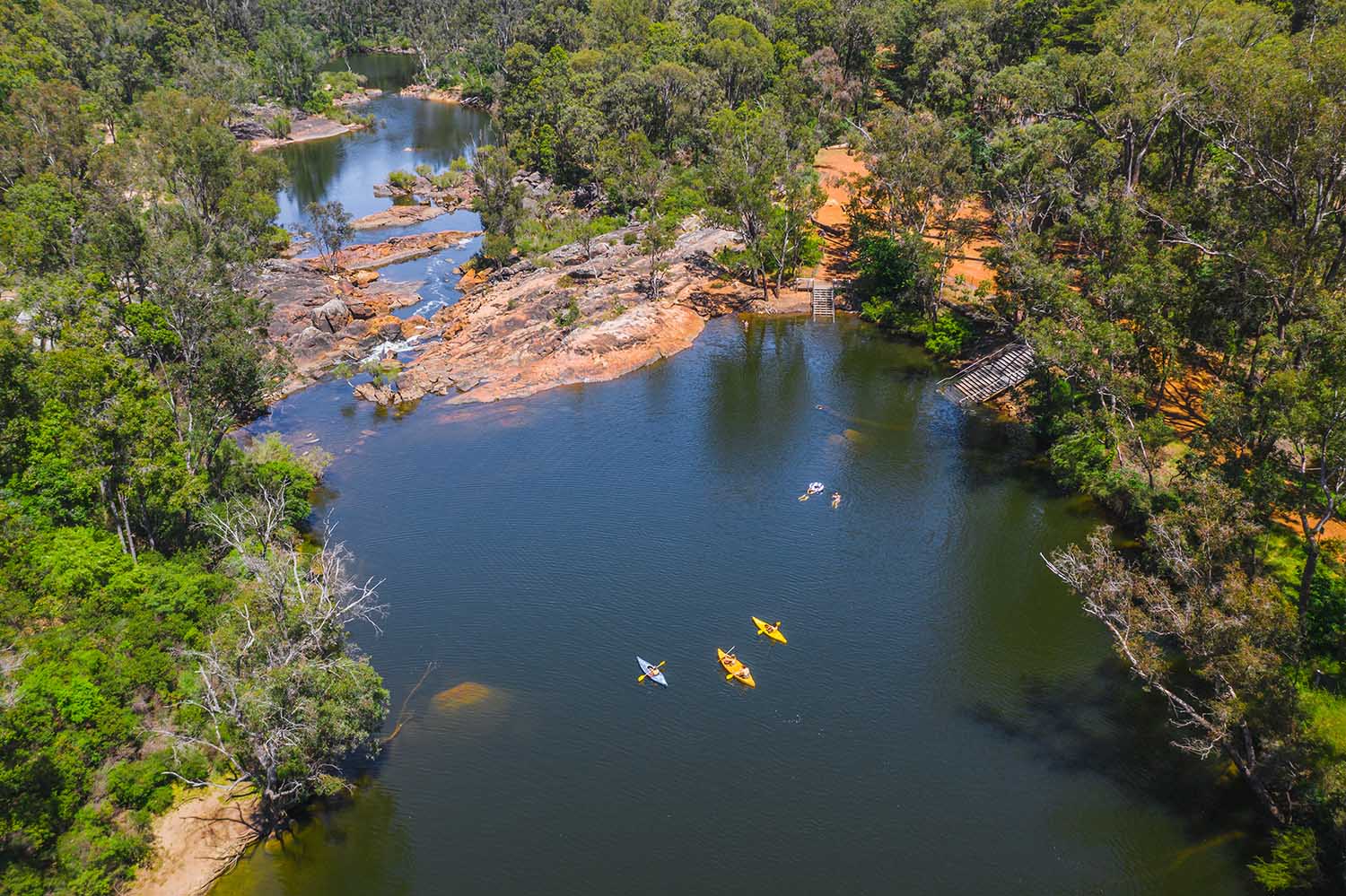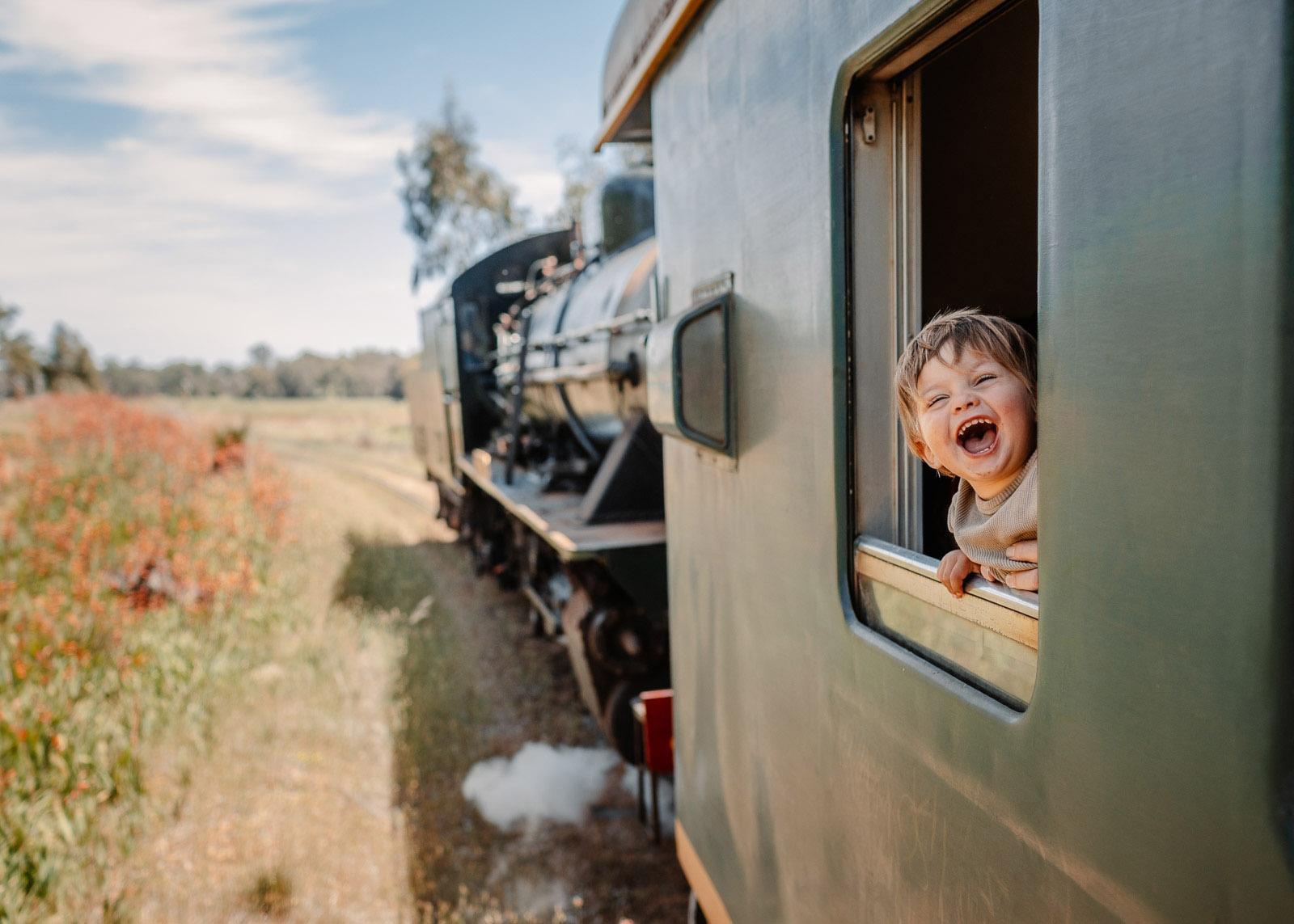 In the early morning, fog hangs in the valley making for one of the most spectacular sunrises you will ever see. Take the time to appreciate the magic of stillness and calm as the golden light trickles through the towering forest trees and take an enjoy an early morning bush walk that will ignite your senses and invigorate your body.

The Island Pool Walk Trail is a comfortable and scenic 2.1km loop, with stunning views of the valley (and a great spot for breakfast). If you're lucky, you may spot a mob of emu's, a flock of red-tailed black cockatoo's or even the evasive chuditch on your journey.

Towards the end of your walk to can take solace in the knowledge that you can soon simply float in the calm waters of the Murray River, staring up at the sky through forest canopies and even venture further upstream to find a hidden Billabong, before having to pack up and prepare for your last day.

After saying farewell to your home for the last two nights, a brunch or lunch feast of comfort food is what is required to soothe the soul. Hidden amidst the lush, colourful trees and edible gardens of Lost Eden Creative is Garden Eats. Here, you'll find a quaint café serving plant-based and gluten-free food from a rustic food van that was a horse float in another life. The menu is ever changing, produce is sourced locally and is fresh, healthy and delicious. Authentic soul food.

Every holiday needs a little shopping, take a wander down the main street of Dwellingup, which exudes country charm and explore boutique stores and art galleries, each showcasing a collection of local artisans and their wares.

There is time for one last, iconic adventure before the journey home.

Enjoy the Darling Ranges in all its glory aboard the puffing Steam Ranger of Hotham Valley Tourist Railway as it makes its way through the Dwellingup Forest (May – October). If you're visiting during the summer season, board the heritage diesel Forest Train with its open carriages where you can truly immerse in the breathtaking scenery and native wildlife while sipping on a glass of champagne.

As you are returning to the Dwellingup Station and taking in the last of the scenery, you can feel your soul re-energising and your mind becoming clear, before it is time to take the leisurely drive back through the winding, country roads – towards home.
TASTY TREATS AWAIT IN DWELLINGUP
All year round, Dwellingup's cosy eateries are just the ticket to fuel adventure seekers. Whatever your fancy, you're bound to find a tasty dining experience in Dwellingup with just the right amount of quirkiness on the side. A profusion of experiences and fresh local produce, whatever your interests and appetite, you're unlikely to ever go hungry in Dwellingup.